Contrary to popular opinion, fish oils have no significant effect on cholesterol levels or blood pressure. They do, however, have other effects that reduce the risk of heart disease and strokes. For example, they have a powerful effect on lowering triglyceride levels.

Triglycerides are another class of blood lipid (fats). In the past, the relationship between elevated triglyceride levels and CVD has been uncertain. Recently, however, a large body of accumulating evidence indicates that high triglyceride levels are an independent risk factor for CVD. This increased risk is the result of relationships between blood triglyceride levels and other risk factors, such as the presence of small dense low-density lipoprotein, insulin resistance, a tendency toward clot formation, and low-grade systemic inflammation. The effect of fish oils on lowering triglyceride levels can be astounding. It is not uncommon for individuals with extremely high triglyceride levels -- 500 to 600 mg/dL -- to achieve levels below 150 mg/dL after four weeks of supplementing their diet with 1,000 to 3,000 mg daily of a combination of EPA and DHA from fish oils.

Fish oils also improve blood flow and reduce excessive stickiness of blood platelets. Once platelets adhere to each other, or aggregate, they release potent compounds that dramatically promote the formation of atherosclerotic plaque. They can also form a clot, which can get stuck in small arteries and produce a heart attack or stroke. What determines the stickiness of platelets is largely the type of fats in the diet. Whereas saturated fats and cholesterol increase platelet aggregation, omega-3 oils have the opposite effect.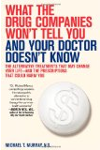 Continue Learning about Dietary Supplements
Whether you're visiting the drug store, grocery or natural food shop you'll likely find an aisle where there are jars and bottles of things for you to put in your body that are neither foods nor medicines. Ranging from vitamins an...
d minerals to fiber and herbal remedies, these supplements are not regulated in the same way as either food or medicine. Some of them are backed by solid research, others are folk remedies or proprietary cures. If your diet does not include enough of certain vitamins or minerals, a supplement may be a good idea. Natural treatment for conditions like constipation may be effective. But because these substances are unregulated, it is always a good idea to educate yourself about the products and to use common sense when taking them. This is even more true if you are pregnant or taking a medicine that may be affected by supplements.
More