Some of the most popular varieties of rice in this country include:
Arborio: A round, short-grain, starchy white rice, traditionally used to make the Italian dish risotto.
Basmati: An aromatic rice that has a nut-like fragrance, delicate flavor, and light texture.
Sweet rice: Almost translucent when it is cooked, this very sticky short-grain rice is traditionally used to make sushi and mochi.
Jasmine: A soft-textured, long-grain, aromatic rice that is available in both brown and white varieties.
Bhutanese red rice: Grown in the Himalayas, this red rice has a nutty, earthy taste.
Forbidden rice: A black-colored, short-grain rice that turns purple upon cooking; it has a sweet taste and sticky texture.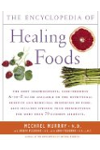 More About this Book
Encyclopedia of Healing Foods
From the bestselling authors of The Encyclopedia of Natural Medicine, the most comprehensive and practical guide available to the nutritional benefits and medicinal properties of virtually everything...
Continue Learning about Dietary Supplements