Since picked corn goes through rapid conversions from sugar to starch, whether from the farmer's market or supermarket, it is best to buy corn that has been stored in a cool environment or refrigerated. Visually inspect the corn husks, and choose those that still look fresh, with minimal drying. You can pull the husk back and down to check the kernels. If they are fresh and well hydrated, they should look turgid and tightly packed. If you pierce a kernel with your fingernail, a milky white liquid should flow out.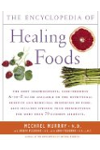 More About this Book
Encyclopedia of Healing Foods
From the bestselling authors of The Encyclopedia of Natural Medicine, the most comprehensive and practical guide available to the nutritional benefits and medicinal properties of virtually everything...
Continue Learning about Dietary Supplements