There's some preliminary evidence that probiotics -- good bacteria that coat the gastrointestinal (GI) tract -- are not only beneficial for children's digestive systems but can also reduce the incidence of cold and flu symptoms by more than 65 percent. Get them in the spore form, which come in pills that you can mix with formula or baby food, rather than in live culture. The live culture (yogurt-based ones, generally) does not survive the acid in the stomach very well. Also, the protein in yogurt is not well handled by the intestines of children under one; it can punch holes in the intestines if given in more than a few spoonfuls.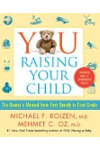 Continue Learning about Dietary Supplements
Whether you're visiting the drug store, grocery or natural food shop you'll likely find an aisle where there are jars and bottles of things for you to put in your body that are neither foods nor medicines. Ranging from vitamins an...
d minerals to fiber and herbal remedies, these supplements are not regulated in the same way as either food or medicine. Some of them are backed by solid research, others are folk remedies or proprietary cures. If your diet does not include enough of certain vitamins or minerals, a supplement may be a good idea. Natural treatment for conditions like constipation may be effective. But because these substances are unregulated, it is always a good idea to educate yourself about the products and to use common sense when taking them. This is even more true if you are pregnant or taking a medicine that may be affected by supplements.
More