In what initially seems to be a paradox, in some parts of the world an excessive fat intake leads to increases in chronic and degenerative conditions, such as atherosclerosis, diabetes, colon cancer, asthma, and arthritis, while in other high-fat-intake regions, the risk of developing these conditions is much lower. Why would this be? Well, it seems not to be geographically-related. Instead, research is showing that it is the type of fat ingested that is important. Regions like the Mediterranean areas tend to consume the very healthy olive oil and thus their risk of developing these conditions is reduced. Conversely, in places like the U.S., where people take in high levels of animal fats, the risk is augmented.

How does olive oil make people healthier? Multiple studies conducted around the world are creating a strong body of evidence describing the multiple benefits of olive oil and olive compounds for many difficult diseases.

Scientific investigations reveal that particles of LDL cholesterol (the potentially harmful cholesterol) in the blood that are made up of the monounsaturated fats of olive oil are less likely to become oxidized than other less healthy oils and fats. This is important, for as far as researchers can tell, only oxidized cholesterol adheres to vessel walls and inevitably forms the plaque that can lead to heart attacks or strokes. By ingesting olive oil instead of saturated animal fats, we can prevent the oxidation of cholesterol and help prevent atherosclerosis. Furthermore, when people with high cholesterol levels eliminated the saturated fat from their diet and replaced it with olive oil, total cholesterol levels dropped about 13.4 percent on average, and LDL cholesterol levels dropped 18 percent. Note, however, that these benefits occurred when they used olive oil instead of eating other fats, rather than simply adding olive oil to their normal diet. An important message here is the following: to reap the benefits of olive oil, the unhealthy dietary fats still need to be eliminated from the diet.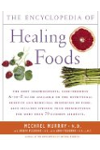 More About this Book
Encyclopedia of Healing Foods
From the bestselling authors of The Encyclopedia of Natural Medicine, the most comprehensive and practical guide available to the nutritional benefits and medicinal properties of virtually everything...
Continue Learning about Dietary Supplements
Whether you're visiting the drug store, grocery or natural food shop you'll likely find an aisle where there are jars and bottles of things for you to put in your body that are neither foods nor medicines. Ranging from vitamins an...
d minerals to fiber and herbal remedies, these supplements are not regulated in the same way as either food or medicine. Some of them are backed by solid research, others are folk remedies or proprietary cures. If your diet does not include enough of certain vitamins or minerals, a supplement may be a good idea. Natural treatment for conditions like constipation may be effective. But because these substances are unregulated, it is always a good idea to educate yourself about the products and to use common sense when taking them. This is even more true if you are pregnant or taking a medicine that may be affected by supplements.
More