There are seven main forms of green tea:
Sencha is the most popular of Japan's green teas.
Dragon well is considered the ultimate green tea from China. The name comes from a legendary well in the West Lake region of China where the tea is produced.
Macha is the kind of tea used in traditional Japanese tea ceremonies. It's ground up very fine, and the tea is whisked when prepared.
Young hyson contains the smallest leaves picked in the spring before the monsoon rains begin.The name means "bright spring."
Hyson contains the larger leaves picked in the spring before the monsoon rains. When brewed properly, this tea has a more full-bodied flavor and slightly darker color than young hyson. Higher in caffeine than young hyson, it is excellent in the morning and for afternoon tea.
Pinhead gunpowder is picked in the early spring before the monsoons. The smaller leaves are rolled between the fingers of the picker before being dropped into the basket. The leaves are dried before they begin to ferment. A light gold color when brewed properly, the tea has a light, airy flavor with a slightly "minty" aftertaste.
Gunpowder is sometimes called "temple of Heaven." These spring leaves are harvested before the monsoons. The larger leaves are most commonly used.
We encourage you to sample a variety of brands and types of green teas before settling on the types you like best.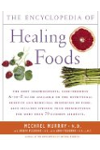 More About this Book
Encyclopedia of Healing Foods
From the bestselling authors of The Encyclopedia of Natural Medicine, the most comprehensive and practical guide available to the nutritional benefits and medicinal properties of virtually everything...
Continue Learning about Dietary Supplements