Propolis is a product of tree sap mixed with bee secretions that is used by bees to protect against bacteria, viruses, and fungi. Propolis is unfortunately lost in honey processing, thus greatly reducing the level of phytochemicals known to protect against germs; recent research suggests that these may also prevent certain types of cancer.

Within the propolis are well-researched phytochemicals that have cancer-preventing and antitumor properties. These substances include caffeic acid, methyl caffeate, phenylethyl caffeate, and phenylethyl dimethylcaffeate. Researchers have discovered that these substances in propolis prevent colon cancer in animals by shutting down the activity of two enzymes, phosphatidylinositol-specific phospholipase C and lipoxygenase, involved in the production of cancer-causing compounds.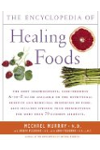 More About this Book
Encyclopedia of Healing Foods
From the bestselling authors of The Encyclopedia of Natural Medicine, the most comprehensive and practical guide available to the nutritional benefits and medicinal properties of virtually everything...
Continue Learning about Dietary Supplements