Honey is an excellent source of readily available carbohydrate, a chief source of quick energy. In the time of the ancient Olympics, athletes were reported to eat special foods, such as honey and dried figs, to enhance their sports performance. Recently, one group of researchers investigated the use of honey as a performance aid in athletes. The study involved a group of thirty-nine weight-trained athletes, both male and female. Subjects underwent an intensive weight-lifting workout and then immediately consumed a protein supplement blended with sugar, malt dextrin, or honey as the carbohydrate source. The honey group maintained optimal blood sugar levels throughout the two hours following the workout. In addition, muscle recuperation and glycogen restoration (carbohydrates stored in muscle) was favorable in those individuals consuming the honey-protein combination.

Sustaining favorable blood sugar concentrations after endurance training by ingesting carbohydrates before, during, and after training is important for maintaining muscle glycogen stores (glycogen is the form in which sugar is stored in muscle as ready-to-use fuel), so that muscle recuperation is more efficient and the athlete is ready to perform again at his or her highest level the next day. So for now, honey appears to be suitable sources of carbohydrate that can help athletes perform at their best, but it does not appear to be a superior choice compared to other carbohydrates.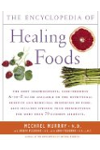 More About this Book
Encyclopedia of Healing Foods
From the bestselling authors of The Encyclopedia of Natural Medicine, the most comprehensive and practical guide available to the nutritional benefits and medicinal properties of virtually everything...
Continue Learning about Dietary Supplements
Whether you're visiting the drug store, grocery or natural food shop you'll likely find an aisle where there are jars and bottles of things for you to put in your body that are neither foods nor medicines. Ranging from vitamins an...
d minerals to fiber and herbal remedies, these supplements are not regulated in the same way as either food or medicine. Some of them are backed by solid research, others are folk remedies or proprietary cures. If your diet does not include enough of certain vitamins or minerals, a supplement may be a good idea. Natural treatment for conditions like constipation may be effective. But because these substances are unregulated, it is always a good idea to educate yourself about the products and to use common sense when taking them. This is even more true if you are pregnant or taking a medicine that may be affected by supplements.
More