Acidified sour half-and-half results from the souring of half-and-half with safe and suitable acidifiers, with or without the addition of lactic acid-producing bacteria. Federal standards (milk fat content) for this product are the same as those for sour half-and-half. Acidified sour half-and-half is similar to buttermilk.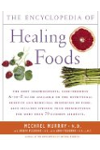 More About this Book
Encyclopedia of Healing Foods
From the bestselling authors of The Encyclopedia of Natural Medicine, the most comprehensive and practical guide available to the nutritional benefits and medicinal properties of virtually everything...
Continue Learning about Dietary Supplements