Proteins are composed of building blocks known as amino acids. Amino acids are compounds containing carbon, hydrogen, oxygen, nitrogen, and in some cases sulfur. All amino acids have an acid group and an amino group attached to a carbon atom.
The human body can manufacture most of the amino acids required for making body proteins. However, there are nine essential amino acids, which cannot be manufactured by the human body. The quality of a protein source is based on its level of these essential amino acids along with its digestibility, and ability to be utilized by the body. The amino group of one amino acid can link with the acid group or carboxyl end of another amino acid to form a chain. This link is called a peptide bond. Two amino acids join together to form a dipeptide, while many amino acids join together to form a polypeptide.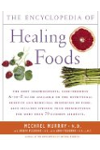 More About this Book
Encyclopedia of Healing Foods
From the bestselling authors of The Encyclopedia of Natural Medicine, the most comprehensive and practical guide available to the nutritional benefits and medicinal properties of virtually everything...
Continue Learning about Nurtriceutical