Protein deficiency is still a big problem in developing countries. It affects mainly young children and is the result of both too little food and too little protein in the diet. The two most common forms of protein deficiency are marasmus and kwashiorkor.

Marasmus occurs mainly in infants under one year of age, who have been weaned off breast milk onto a diet containing too few calories and too little protein. As a result, the child becomes severely underweight and very weak and lethargic.

Kwashiorkor tends to occur in older children, who have been weaned onto a diet high in starchy foods but too low in calories and protein. A child with kwashiorkor is severely underweight, but this is often masked by edema (water retention), which makes the face moon-shaped and the arms and legs look plump. The hair is thin and discolored, and the skin may show patches of scaliness, and variable pigmentation.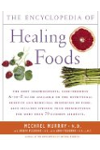 More About this Book
Encyclopedia of Healing Foods
From the bestselling authors of The Encyclopedia of Natural Medicine, the most comprehensive and practical guide available to the nutritional benefits and medicinal properties of virtually everything...
Continue Learning about Diet & Nutrition