The word "breakfast" is derived from the phrase "breaking the fast." We fast while we sleep, and breaking that fast should make breakfast the most joyful meal of the day, as we have lived through the night and are beginning a new day. Breakfast is an opportunity for a new beginning that sets the stage and sets the table for the day.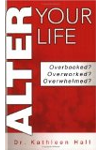 Continue Learning about Diet & Nutrition

To eat healthy, pick foods that are the colors of the rainbow, and watch your portion sizes. Eating foods that are colorful-red apples, orange carrots, yellow squash, green salad, tomatoes, blueberries and purple eggplant-helps yo...
u add fruits and vegetables to your diet.
More