The world's first cultivated tree, the fig tree of the family Moraceae, can be traced back to the earliest historical documents, with references in the Bible and other ancient writings. The fig tree, a native of the Middle East and Mediterranean, is thought to have been cultivated in Egypt before being carried to Crete and Greece. Figs were held in such great regard by the Greeks that laws were created to prevent the export of their finest-quality figs. In Roman mythology, the famous characters Romulus and Remus were sheltered by the important fig tree. Already at this time in history, at least twenty-nine varieties of figs were recognized. Later in history, figs were introduced to other regions in the Mediterranean by ancient conquerors and then brought to the Western world by the Spaniards in the sixteenth century. It was not until the late nineteenth century, when the Spanish missionaries established their missions in San Diego, California, that the fig tree was planted. Unfortunately, due to poor cultivation techniques, the figs were inferior in quality to those imported from Europe. It was only in the early twentieth century that California farmers began focusing on proper fig cultivation and processing. As a result, California became one of the greatest cultivators of figs and adds significantly to the world production, along with Turkey, Greece, Spain, and Portugal.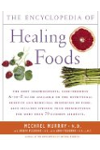 More About this Book
Encyclopedia of Healing Foods
From the bestselling authors of The Encyclopedia of Natural Medicine, the most comprehensive and practical guide available to the nutritional benefits and medicinal properties of virtually everything...
Continue Learning about Diet & Nutrition