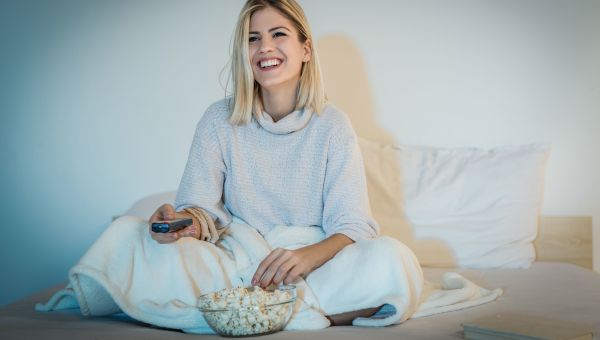 You don't have to go to bed hungry.
1 / 8
Sometimes, you just need a bite at night. Luckily, evening noshing doesn't have to blow your diet.
Healthy between-meal snacks, regardless of when you enjoy them, should be high in water, fiber and nutrients, and low in saturated fat, calories and sugar. Keep this in mind whenever you're building the perfect p.m. treat, and steer clear of diet-busting foods like potato chips and candy bars.
Check out these six nighttime nibbles that won't totally blow your healthy eating efforts, plus some snacks you should avoid before bedtime.
Medically reviewed in July 2018. 2 / 8

Go nuts for almonds

Nuts are a quick and easy snack, whether you're on the go or nestled on your living room couch.

A serving of almonds, about 24 nuts, contains just 160 calories and is loaded with healthy fat and more than 3 grams of wholesome fiber. Women are encouraged to consume about 25 grams of fiber daily, and men under the age of 50, about 38 grams. Dietary fiber helps promote regular digestion, lower cholesterol levels and may even aid in weight management. Fiber-rich foods are known for their ability to keep you fuller for longer.

Nuts may be especially good for managing your weight, too. A 2007 study of 8,865 men and women suggests those who noshed nuts two or more times a week were less likely to gain weight than those who rarely ate them.

Per ounce, nuts are high in calories, so be mindful not to overdo it. Tip to prevent overeating: measure the perfect portion into individual snack bags. 3 / 8

Snack on air-popped popcorn

Forget greasy microwave popcorn or the butter-soaked kernels you munch at the movie theater. Air-popped popcorn, homemade or otherwise, is a much better choice for your midnight snack.

Four cups of the made-from-scratch stuff contains just 120 calories, compared to 260 calories for a similar serving of microwave popcorn. Popcorn also has an estimated glycemic load of just 12. Glycemic load helps gauge how much a serving of a specific food will spike your blood sugar levels, so popcorn is glucose-friendly choice.

Jazz up your nighttime snack with low-calorie seasonings, like fresh herbs and spices. Or, for another yummy option, add a sprinkle of cinnamon to a bowl of warm popcorn. 4 / 8

Dig into a bowl of oats and berries

Oats aren't just for the morning. A hearty bowl of oatmeal, topped with berries or the season's freshest fruit, makes a filling addition to your evening. Opt for unsweetened oats to slash sugar and calories. One-third of a cup of dry oats contains just 100 calories and 1 cup of strawberries contains fewer than 50 calories, so you can dig in without guilt.

Oats are packed with fiber—almost 3 grams per serving,—so a single bowl should keep you full until morning. That's not all. Results from a 2014 systematic review suggest oats help lower bad cholesterol levels, while other research suggests they may even reduce your risk of weight gain. 5 / 8

Pair homemade hummus with carrots

As you're winding down from the day, enjoying your favorite TV show, it seems only natural to munch on a crunchy snack. Before you reach for pretzel twists, loaded with refined carbs, or that fat-laden onion dip, peruse your refrigerator for a healthy and satisfying alternative.

A cup of carrot sticks contains just 50 calories, and 2 tablespoons of hummus, another 50, bringing this wholesome snack to just 100 measly calories. Hummus is made with garbanzo beans, and a 2-tablespoon serving contains more than 2 grams of protein. Protein helps keep you fuller, longer, so eat up.

You can buy hummus or whip up your own batch using flavors like garlic, lemon and roasted red pepper. Not a fan of carrots? Slice up bell peppers, celery or another low-calorie favorite, and enjoy all week long. 6 / 8

Dunk bell peppers in fresh guacamole

Creamy avocado adds a ton of flavor, fiber, protein and heart-healthy fats to your evening nosh. Protein and fiber sate hunger, so you won't be scouring for something else to eat, and healthy fats also help to fill you up. Blend up 2 tablespoons of guacamole, with avocado, tomato and onion, and get your snacking started. A serving contains just 46 calories.

Tortilla chips aren't the only crunchy dunkers that pair well with guac. Bell peppers are loaded with water and fiber, which make them a diet-friendly snack. Enjoy 1 cup of thinly sliced veggies for just 18 calories, for a significant snack that's under 70 calories altogether. 7 / 8

Blend up banana "nice" cream

High-fat dairy products can worsen symptoms of acid reflux and aggravate heartburn. And chocolate- and coffee-flavored frozen treats could have you stirring in your sleep. Not to mention, most ice creams are loaded with sugar and calories, both of which are not ideal for those looking to slim down.

You don't have to give up your favorite frozen delights; a few tweaks can make these treats a bit healthier. When you feel an ice cream craving coming, pop a banana—and other fruits, like mango and strawberries—in your freezer.

Blend your frozen banana for a frosty treat that contains just about 100 calories. If you're a sucker for toppings, fear not. Sprinkle on a tablespoon of unsweetened coconut flakes for fewer than 35 calories, or toss on a tablespoon of chopped walnuts, which contains an extra 48 calories. 8 / 8

Foods to avoid before bedtime

You knew the caffeine in coffee, tea and cola could steal your slumber, but certain caffeinated foods can disrupt your snoozing, too; these include bitter dark chocolate and coffee- or chocolate-flavored pudding and ice cream. One study suggests consuming caffeine even six hours before you hit the hay can affect your sleep quality.

Other foods can disturb your sleep, as well. Fatty treats like bacon and french fries can worsen symptoms of acid reflux, causing heartburn in the chest and throat. Unfortunately, foods rich in healthy fats, like nuts and avocado, may trigger heartburn, too. Heartburn can make restful sleep a lofty dream, so it's best to avoid any edibles you suspect are worsening your symptoms. Research suggests those who experience nighttime heartburn are more likely to show signs of insomnia and sleep apnea than those who don't.

Spicy foods can also trigger heartburn and disrupt sleep, so enjoy spicy chili, pad thai and hot sauce early in the day.
Continue Learning about Diet & Nutrition