Grains are without question the most important food crop in the world, literally the "staff of life" for most people on this planet. Historically, grains have fueled the growth of civilization, and as the earth's population continues to grow, our reliance on grains is greater than ever. A grain is most often the seed of a member of the grass family and is usually referred to as a "cereal" grain. The word "cereal" is derived from Ceres, the Roman goddess of agriculture.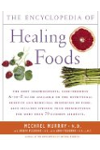 More About this Book
Encyclopedia of Healing Foods
From the bestselling authors of The Encyclopedia of Natural Medicine, the most comprehensive and practical guide available to the nutritional benefits and medicinal properties of virtually everything...
Continue Learning about Diet & Nutrition