Today, white rice is often enriched with thiamine and other nutrients lost during milling. However, beriberi is still prevalent in many parts of Asia, where white rice supplies up to 80 percent of the total calories. Beriberi and many other nutrient deficiencies in third-world countries could be prevented if the people simply ate whole grains.

The story of beriberi and the discovery of thiamine highlights the value of whole grains over polished grains. In addition to many known nutrients, whole grains provide substantially more phytochemicals, and possibly many unknown compounds with health-promoting properties as well.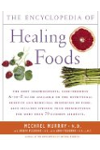 More About this Book
Encyclopedia of Healing Foods
From the bestselling authors of The Encyclopedia of Natural Medicine, the most comprehensive and practical guide available to the nutritional benefits and medicinal properties of virtually everything...
Continue Learning about Diet & Nutrition

To eat healthy, pick foods that are the colors of the rainbow, and watch your portion sizes. Eating foods that are colorful-red apples, orange carrots, yellow squash, green salad, tomatoes, blueberries and purple eggplant-helps yo...
u add fruits and vegetables to your diet.
More