Beriberi was relatively common in the general population of Asia, and, globally, in sailors and in prison populations. Prior to the late 1890s, the cause of beriberi was not known. The first clue occurred in 1873, when a Dutch naval doctor observed that European crew members had significantly fewer cases of beriberi than sailors recruited from the East Indies. When the amount of white rice in the diet of the East Indies sailors was decreased, the rate of beriberi came down. But, beriberi was believed to have been caused by some toxin or infectious agent in the white rice. Kanehiro Takaki, a Japanese naval doctor, was the first to report beriberi as a nutritional deficiency. His reports were based on the fact that the incidence of beriberi reduced in Japanese sailors when they were given additional meat, dry milk, and vegetables.

The Dutch physician, Christaan Eijkman's classic experiments in the 1890s began to clarify the role of diet in the development of beriberi. Eijkman noticed that when fowl were fed a diet solely consisting of polished white rice, they developed symptoms similar to beriberi. By adding rice polishings, the material removed from whole rice to produce white rice, to the feed, Eijkman was able to cure the fowl of beriberi. His associate later demonstrated that the addition of green peas, green beans, and meat could prevent beriberi in fowl and deduced correctly that there was something in natural food stuffs that prevented beriberi. In 1911, Funk, working at the Lister Institute in London, claimed to have isolated from rice polishings a substance that would cure/prevent beriberi. Funk termed his discovery a "vitamine." What Funk actually isolated, however, turned out to be the anti-pellagra vitamin, or niacin (vitamin B3). In 1926, pure thiamine, the true anti-beriberi vitamin, was isolated by two Dutch scientists, Barend Jansen and W. F. Donath, working in Java.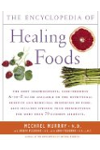 More About this Book
Encyclopedia of Healing Foods
From the bestselling authors of The Encyclopedia of Natural Medicine, the most comprehensive and practical guide available to the nutritional benefits and medicinal properties of virtually everything...
Continue Learning about Diet & Nutrition