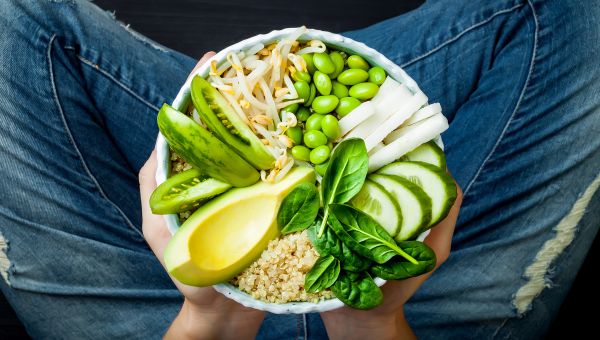 A staple of Eastern diets . . . but should it be part of yours?
Soy appeals to many people for a variety of reasons. Vegetarians like the meatless protein options it affords them. The lactose intolerant seek it out as a dairy alternative. Still others enjoy soy for the promising health benefits it has been linked to, including lower cholesterol, fewer hot flashes, better prostate function, improved bone density, and extra cancer prevention.
But are soy foods really as powerful as they claim to be? So far, there's not enough evidence to back all of the claims made about whole soy or soy products. Whole soy, however, is still a healthy addition to a diverse diet.
Not only is it low in total fat and cholesterol, but also it provides a healthy dose of fiber, B vitamins, calcium, and unsaturated fatty acids. Here are some basic guidelines to help you consider your soy options.
Choose Whole Soy
Soy products appear all over the store in various forms. You'll find soy burgers and sausages in the frozen-food aisle, soy cheese and soymilk in the dairy aisle, as well as whole soybeans (edamame) in the produce aisle. How do you know which to choose? As a general rule, try not to stray too far from the whole soybean. As with fruit and vegetables, much of the nutritional power of soy appears to lie in the phytochemicals that whole soy foods contain, especially isoflavones. Researchers believe that the complex mix of phytochemicals found in soy are most nutritious when they are consumed in their natural state, combined with the plant-based proteins in whole soy foods.
Also, whole soy foods are best because processed soy may have altered levels of the potentially beneficial phytochemicals that naturally occur in soybeans. And just as the refined grains found in white bread are less nutritious than whole-grain bread, so, too, is processed soy usually depleted of fiber and other nutrients. Several manufacturers now produce soy-protein products that contain concentrated soy or added soy isolates. You'll find these marketed as pills, powders, and supplements.
Read the Labels
When shopping for soy-based foods, look beyond the marketing claims on the packaging, and check the ingredients list. Always opt for foods made from whole soybeans rather than added soy protein or soy isolates. Keep an eye on total fat, saturated fat, cholesterol, sugar, and sodium levels, too. Just as with any other packaged foods, some soy products may be loaded with these aging ingredients.
As scientists continue to explore the benefits of soy, your best bet is to stick with traditional Asian soy foods over packaged soy protein shakes, frozen desserts, and energy bars. Much of the original research exploring the benefits of soy was based on the dietary habits of Asian populations. Foods such as edamame, tempeh, miso, and tofu are all common staples of certain Asian diets.
Make It Soy-Wonderful
Tofu: Because tofu has a mild taste and a porous texture, it will readily absorb the flavors of other ingredients in a recipe. Try marinating tofu in reduced-sodium soy sauce, or mix it with crushed ginger for a tasty source of protein.
Miso: Use miso in place of chicken bouillon in soups or rice dishes.
Soybeans: Try using soybeans in lieu of other legumes, such as kidney beans in chili or garbanzo beans in hummus. Here's a recipe to get you started:
Spicy Soybean Hummus
2 large cloves of garlic
1 1/2 cups cooked soybeans
2 tablespoons roasted sesame tahini
1/2 teaspoon ground cumin
1 tablespoon olive oil
1 tablespoon lemon juice
1/2 cup fresh parsley
1/2 tablespoon soy sauce
1 to 4 tablespoons vegetable broth
Preheat oven to 450 degrees Fahrenheit. Roast garlic cloves for 7 to 10 minutes or until they just begin to brown and can be pierced easily with a fork.
In a blender or food processor, combine cooked soybeans with tahini, roasted garlic, cumin, olive oil, lemon juice, and parsley. Blend until smooth. Add soy sauce and broth to reach desired consistency and taste.
Makes about 1 1/2 cups. Serve with whole-grain pita bread.
More Easy Ways to Add Soy to Your Diet
Add chopped tofu or tempeh to stir-fried vegetables.
Spread soy-nut butter on whole-grain bread.
Snack on soy nuts or edamame.
Focus on Balance
If you're ready to add soy to your menu, just remember that balance is still the key to a healthful diet. Rather than focusing heavily on one food, expand your food selections to include a wide range of great-tasting foods that are full of vitamins, minerals, and fiber. Mixing up your meals with moderate amounts of whole soy foods will provide you with another tasty and nutritious menu option.
Medically reviewed in March 2019.