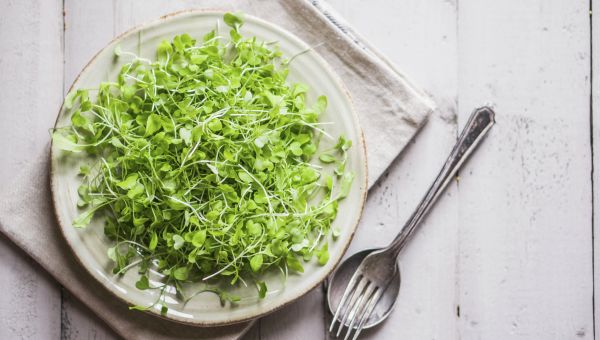 Toward the end of the 17th century Anthony Leeuwenhoek created a ­micro-scope that revealed there were tiny creatures swimming in every drop of water. The world never looked the same again! The micro-chip was invented in 1959 by Robert Noyce and Jack Kilby (working separately) and once again the world was transformed by thinking small. Now, micro-greens are transforming how you eat your vegetables.
Microgreens, tasty, nutrition-packed seedlings, are grown from the seeds of amaranth, arugula, beets, basil, red cabbage, celery, cilantro, chard, chervil, cress, fennel, kale, parsley, radish, and other plants. They're turning up in salads and stews, on 100% whole-grain pizzas, sandwiches and bagels, and as a garnish with grilled salmon or tossed in cooked whole grains and quinoa.
One study found most of these sprouted seeds, vegetables and grains have four to six times the nutritional content of their full-grown versions. Of the 25 varieties tested, red cabbage had the highest concentration of vitamin C; cilantro, the most carotenoids; amaranth, the most vitamin K; and green daikon radish was tops in vitamin E.
Related: How to Make a Healthy Salad
Interested? All you need is a plastic container filled with 1½ to 2 inches of organic soil set on a draining tray and a sprinkling of seeds (mixed is good). Press them gently into the soil. Now you need a south facing windowsill, a watering can, and a couple of weeks (although some take 4-6 weeks). Snip the shoots at the soil line when they're ½ to 1.5 inches long, and there's a set of partially developed micro-leaves. Wash well and enjoy!