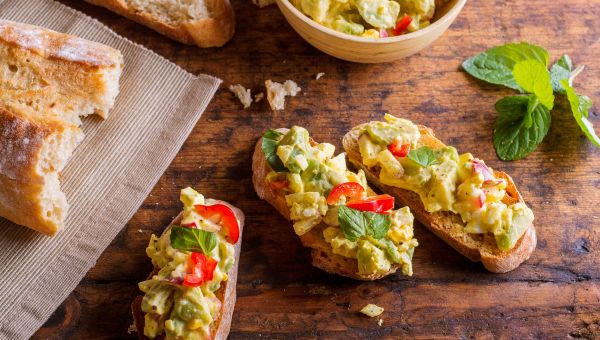 Eating in Color: Corn and Basil Crab Toasts
If you love crab cakes, but don't have the time to make them, these Corn and Basil Crab Toasts are the perfect alternative. And they're so good for you! In addition to heart-healthy monounsaturated fats found in the avocados, you also get low-fat protein from the crab, vitamin C from the bell pepper and immune-boosting antioxidants from the fresh basil.
Corn and Basil Crab Toasts
Serves 4
Ingredients:
For the toasts
1 ficelle or ½ baguette
1 avocado, pitted and peeled
2 tablespoons fresh lemon juice
For the spicy mayonnaise
¼ cup canola mayonnaise
1 teaspoon finely grated lemon zest
¼ teaspoon sweet paprika
¼ teaspoon ground red pepper
For the crab
½ pound jumbo lump crab meat
1 small ear corn, cooked and kernels removed, or ⅓ cup thawed frozen corn kernels
¼ cup minced orange or red bell pepper
⅛ teaspoon salt
⅛ teaspoon freshly ground black pepper
1 tablespoon fresh basil leaves, torn
1 teaspoon lemon zest
Directions:
Prepare the toasts: Using a serrated bread knife, slice the ficelle in half lengthwise and then cut each half crosswise into 4 equal pieces. Lightly toast the bread in a toaster oven. Mash the avocado with the lemon juice and spread it onto the toasted bread.
Make the spicy mayonnaise: In a small bowl, whisk together all the ingredients and set aside.
Make the crab mixture: In a medium bowl, gently combine ingredients for the crab.
Stir the spicy mayonnaise into the crab mixture. Spoon the crab topping onto all 8 toasts and serve 2 per person.

To eat healthy, pick foods that are the colors of the rainbow, and watch your portion sizes. Eating foods that are colorful-red apples, orange carrots, yellow squash, green salad, tomatoes, blueberries and purple eggplant-helps yo...
u add fruits and vegetables to your diet.
More