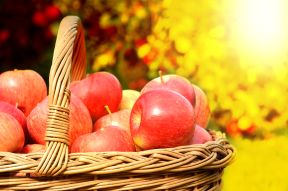 You could do wonders for your cholesterol profile by crunching on three of these a day: apples.
According to Maoshing Ni, PhD, author of Secrets of Self-Healing, eating three apples a day for 3 months could help lower cholesterol by as much as 20 points.
Apple Appeal
Ni points to a Finnish study on nutrition and heart disease in which the apple effects on cholesterol were observed. And because of the almighty apple's low-cal, high-fiber profile, this fruit is one of his favorite home remedies for good cardiovascular health.
The Skin Is In
Because some of the best apple nutrition is in the peel, you'll want to leave it on and eat your apples whole. So going organic probably makes sense when it comes to buying apples. Learn the best foods to buy organic.
More Apple Dazzle
Need a more appealing way to eat apples? Try this apple pie recipe.
Still not an apple fan? Ni also recommends spices such as fennel, oregano, black pepper, basil and tarragon as natural ways to help keep cholesterol in check.
How's Your Heart Health? Get a quick snapshot of how healthy your heart is with this quiz.