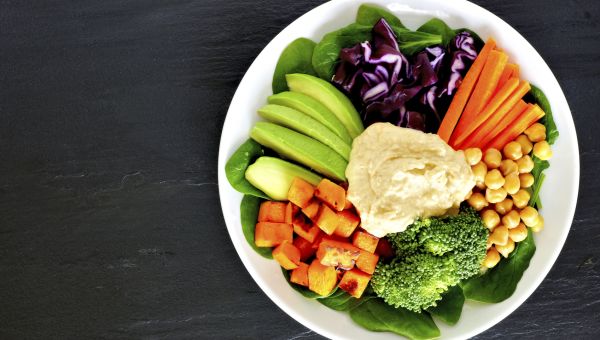 The Grapes of Wrath, The Bad Seed, and Attack of the Killer Tomatoes! These movies from the 1940s, 50s, and 70s might make you think North Americans aren't on very good terms with fruits and vegetables. Fortunately, since the 70s, consumption of produce has gone up about 21%, and 90% of you now say you TRY to include fruit and veggies in your diet.
But (there's always a but) you still need to put your tomatoes, kale and blueberries where your mouth is. Over half of you (52%) get four servings or less of produce every day.
A new study of 800,000 people found that five servings of fruits and veggies a day are associated with a lower risk of every cause of mortality. For each additional serving of fruit and veggies (up to a total of five) you slash your risk of premature death by 5% and 6% respectively.
So how can you get started with your life-extension plan? It's not that hard. A big salad for lunch, a cup of broccoli for dinner—there's three servings of veggies. An orange for breakfast and ½ cup blueberries for dessert gives you two servings of fruit. You've hit five a day without much effort. But don't stop there. While the study says the life-extending benefits level off after five servings -- we say, eat up to nine a day and you'll increase protection from quality-of-life problems like osteoarthritis and dementia, not to mention diverticulitis, cataracts and macular degeneration.
Medically reviewed in August 2019.