Top rolled oats with cinnamon for a brainy breakfast. The oats scrub plaques from your brain arteries, while a chemical in cinnamon is good for keeping your blood sugar in check, which can improve neurotransmission. Eating protein at breakfast will boost dopamine in your brain and increase your ability to focus and pay attention. Eating carbohydrates at breakfast, such as cereal and pastries, will boost serotonin in your brain and induce relaxation. Do you really want to sleep through your morning meeting or have your child nodding off during the first class of the day? Of course you don't! In the United States, we have it backwards. We tend to eat high-carbohydrate cereal, pancakes, or bagels for breakfast and a big steak for dinner. Doing the opposite may be a smarter move for your brain. If you want to do your best thinking at work or school, eat a breakfast that includes healthy proteins such as eggs, chicken sausage, quinoa, or stevia-sweetened pea-protein powder, along with vegetables and just a little bit of fresh fruit.

Some of my favorite breakfasts include: A broccoli omelet with ½ of a grapefruit Breakfast quinoa with nuts and berries on top Chicken sausage, eggs and fruit Smoothies with fruit, greens and sugar-free pea protein powder.

Try this smoothie recipe that my wife, Tana Amen, created:

Brain-Smart Start Smoothie:
½ cup frozen organic blueberries
½ cup frozen cherries
1/3 of a banana
8 ounces pure coconut water or unsweetened almond milk
1 large handful of baby spinach (about 1 ½ cups) … We promise you can't taste it!
2 chard leaves or 1 small cucumber
2 tablespoons hemp seeds
1 tablespoon coconut butter
1 tablespoon goji powder
1 scoop vanilla, or berry-flavored, sugar-free pea protein (sweetened with stevia) (use 2 scoops for large men)
1 tablespoon freeze-dried greens (Green Vibrance is one of our favorite high-quality brands)
1 dropper full berry- or vanilla crème-flavored liquid stevia

Add all ingredients to the blender bowl. Turn blender on low at first, and then increase the speed Add additional almond milk or coconut water as needed to achieve your desired consistency Pour into two large glasses and serve cold.
Here are some brain-boosting breakfast ideas:
egg-white (or egg-substitute) omelet with spinach, onions, peppers or any other vegetable is fine (cook in a small bit of olive oil or in a nonstick pan and serve with a slice of whole-grain bread with a schmeer of vegan margarine)
PB&J (peanut butter and jelly) on a whole-wheat English muffin
low-fat cottage cheese with ¼ slice of melon
whole-grain cereal (cold or hot) with fat-free milk and 2 teaspoons of toasted wheat germ, 1/2 cup berries or ½ banana
whole-wheat tortilla stuffed with scrambled egg substitute topped with salsa
one to two slices of whole-grain toast with melted low-fat cheese and tomato slices
leftover healthy pizza (no cheese or part-skim mozzarella) and lots of vegetables
hearty multi-whole-grain bread French toast topped with a dab of maple syrup and a sprinkling of pumpkin seeds (about 1 teaspoon)
beverages: fat-free milk, coffee, tea, 4 to 6 ounces of 100 percent juice, water, seltzer, juice spritzer (3 ounces juice mixed with 5 ounces of seltzer).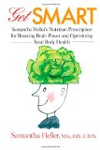 Here are a few brain-boosting breakfast options from some of my nutrition colleages.
- Dave Grotto, RDN, busy author and father of two teenage girls, often has less than 5 minutes in the morning to prepare breakfast. He relies on one of his favorite Hungry Girl quick recipes, Denver Omelet in a Mug, to serve them a fast and satisfying breakfast. Best of all, cleanup is a cinch.
- As a mother of three and author of MyPlate for Moms, Elizabeth Ward, RDN, starts her family's day with her most fave Pumpkin Smoothie. Combine 1 cup each of low fat milk and canned pumpkin along with 2 teaspoons brown sugar, 1/2 teaspoon vanilla extract, a pinch ground cinnamon, and 2 ice cubes in a blender. Serve with whole grain toast. The beauty of this smoothie is that it provides a serving of veggies, which are often hard to squeeze in the AM.
- Culinary nutritionist and author of 1,000 Low-Calorie Recipes, Jackie Newgent, RDN, recommends starting the day off with her Banana-Nut Toastie. Spread a nut butter between 2 slices of whole grain bread. Top one slice of bread with sliced bananas, a few dark chocolate chips, and an optional pinch of cinnamon or cayenne. Cover with the other slice of bread and grill in a skillet or Panini press. Who wouldn't like a tad of antioxidant-rich dark chocolate to start their day?
- Grilled Cheese French Toast is a household favorite for Elisa Zied, RD, author ofYounger Next Week and mother of two hungry boys. To make this cheese stuffed toast, sandwich a slice of Swiss or cheddar cheese in between two slices of whole wheat bread. Dip the sandwich in a scrambled egg and brown in a fry pan coated with nonstick cooking spray. Served with fruit and nonfat milk.
- Lastly, Karen Ansel, RDN, a mother and media spokesperson for AND, suggests a Hummus Breakfast Bagel. Spread hummus on half of a whole wheat bagel and top with tomato slices. "By using hummus instead of cream cheese, you can work in protein and healthy fat, " claims Ansel. Consuming both protein and fat at breakfast will help keep you and your kids full until lunch.
Continue Learning about Diet & Nervous System