Eating vegetables improves your mind. Researchers at Rush University Medical Center in Chicago evaluated cognitive changes in 3718 adults 65 years old and older and followed for 6 years. They found that adults who typically ate more than 2 servings of a vegetable daily had a 40 percent reduction in the amount of mental deterioration over 6 years. This meant their minds looked like they were 5 years younger! All vegetables, except for legumes, slowed loss of intellectual functions. The greatest benefit, however, came from green leafy vegetables.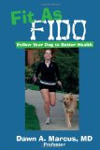 More About this Book
Fit As Fido: Follow Your Dog to Better Health
Let your dog teach you to live a happier, healthier, and more fulfilling life! Companionship with your pet can be used as a means and a motivator to increase your own physical and mental fitness....
Continue Learning about Diet & Nervous System