Here are some brain-boosting snacks:
apple and low-fat cheese
whole-grain cracker (like Ryvita or Wasa) with a schmeer of cashew butter (about 2 teaspoons) and topped with sliced strawberries
½ sliced banana in 1 cup fat-free plain yogurt, with a dash of cinnamon
the classic: ½ cup low-fat cottage cheese and ¼ sliced cantaloupe or honeydew melon
2 figs (fresh or dried) sliced and topped with a few walnuts halves (try figs dipped in tahini, a sesame paste that makes great dips and salad dressings, with a few drops of honey).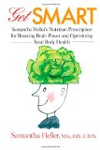 A great brain boosting snack will contain carbohydrate for energy and protein for thinking power. There are many combinations of foods to prepare a brain boosting snack. Choose one serving of lean protein and one serving of grain, fruit, fat reduced milk, or fat reduced Greek yogurt.
Some great snack options would include: Greek yogurt; peanut butter and graham crackers; grilled chicken on a whole grain tortilla; reduced fat cheese and whole grain crackers; or reduced fat milk and cereal.
Continue Learning about Diet & Nervous System