You should replace a diaphragm approximately every two years. Also, the American Congress of Obstetricians and Gynecologists recommends having your diaphragm refitted if any of the following occurs:
your weight changes - see a doctor if you gain or lose 10 pounds or more
you have pelvic surgery
you have a baby
you have an abortion
you have persistent urinary tract infections
you or your partner feels pain or pressure during sex
Continue Learning about Diaphragms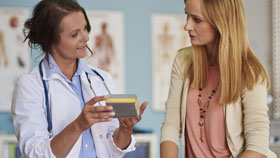 A diaphragm is a dome-shaped form of birth control (barrier contraception) that is inserted into the vagina. When used with spermicide, diaphragms are 84% to 94% effective at preventing pregnancy when they are used every time you ...
have intercourse. Diaphragms do not protect against sexually transmitted diseases, so you should also use condoms to help prevent STDs.
More