A diaphragm is a form of birth control used by women. A diaphragm is made of flexible rubber and shaped like a dome. The diaphragm is inserted into the vagina (up to six hours before sex), where it covers the cervix at bottom of the uterus where it opens into the vagina. A product called spermicide, which destroys sperm, is used with the diaphragm. Spermicide destroys sperm. The diaphragm size must be determined by a doctor or nurse. DA diaphragm requires a prescription.


Continue Learning about Diaphragms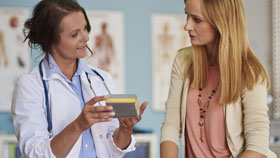 A diaphragm is a dome-shaped form of birth control (barrier contraception) that is inserted into the vagina. When used with spermicide, diaphragms are 84% to 94% effective at preventing pregnancy when they are used every time you ...
have intercourse. Diaphragms do not protect against sexually transmitted diseases, so you should also use condoms to help prevent STDs.
More