Women who use diaphragms may be more likely to develop urinary tract infections. These infections can cause pain and burning when you urinate and other symptoms. There is also a small risk that you will become pregnant. To reduce that risk, make sure that you understand all instructions for proper use of a diaphragm. Check your diaphragm for holes now and then by filling it with water to see if it leaks.


Continue Learning about Diaphragms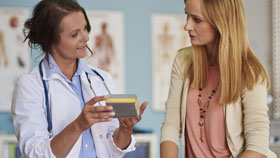 A diaphragm is a dome-shaped form of birth control (barrier contraception) that is inserted into the vagina. When used with spermicide, diaphragms are 84% to 94% effective at preventing pregnancy when they are used every time you ...
have intercourse. Diaphragms do not protect against sexually transmitted diseases, so you should also use condoms to help prevent STDs.
More