You can insert a diaphragm up to six hours before you have sex. (However, apply spermicide no more than two hours before sex.) You should leave a diaphragm in place for at least six hours after sex. Don't leave a diaphragm in place for more than 24 hours, however. Wash a diaphragm with mild soap. Be sure to rinse it very well after washing. After allowing it to air dry, store the diaphragm in its case.


Continue Learning about Diaphragms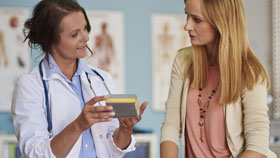 A diaphragm is a dome-shaped form of birth control (barrier contraception) that is inserted into the vagina. When used with spermicide, diaphragms are 84% to 94% effective at preventing pregnancy when they are used every time you ...
have intercourse. Diaphragms do not protect against sexually transmitted diseases, so you should also use condoms to help prevent STDs.
More