A diaphragm is 82% to 94% effective when used every time you have intercourse, even during menstrual periods. To prevent pregnancy, it also must be:
Used with spermicidal cream or jelly, which kills sperm in the vagina;
Inserted immediately before intercourse, and no earlier than six hours
prior;
Kept in place for at least six hours after intercourse because sperm can
live in the vagina;
Removed before 24 hours after intercourse because of the risk of Toxic
Shock Syndrome;
Washed only with mild soap and water, not deodorants, talcum, or
oil-based products, which may damage the diaphragm;
Stored away from heat.
Continue Learning about Diaphragms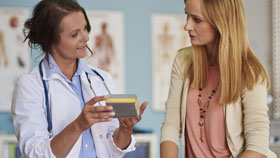 A diaphragm is a dome-shaped form of birth control (barrier contraception) that is inserted into the vagina. When used with spermicide, diaphragms are 84% to 94% effective at preventing pregnancy when they are used every time you ...
have intercourse. Diaphragms do not protect against sexually transmitted diseases, so you should also use condoms to help prevent STDs.
More