Here is a list of the medical tests you should get regularly:
Weight, waist, height, and BMI (Body Mass Index for your doc's records: yearly.
Blood pressure: yearly.
Cholesterol (HDL, LDL, triglycerides): at least every five years but increasing frequency with age and male gender.
Thyroid-stimulating hormone: every other year starting at age 35.
Echocardiogram and stress test: once at age 50 as a baseline.
Physical exam: yearly.
Bone mineral density: around menopause, and every five years after if normal.
Eye exam: every two years by an ophthalmologist.
Hearing exam: at age 65 and yearly in physical.
Oral exam: at least yearly by dentist.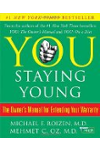 Continue Learning about Diagnostic Procedures