Not all medical tests are necessary, and some may be unwise in certain circumstances. All have potential risks you should know about, too. Before undergoing any medical test, always ask these questions to make sure you understand all the pertinent info and can make an informed decision:
What does this test measure?
Why do I need it?
What could happen if I don't have the test?
What are the alternatives to the test?
Will my health insurance pay the total cost for this test? If not, how much will it cost?
How accurate is the test?
How frequently does this test return false-positives (the results show a problem that doesn't exist) or false-negatives (the test says there's no problem, but there is)?
How is the test performed?
What kind of pain or "discomfort" is involved? Will four orderlies have to hold me down?
What can go wrong?
How should I prepare for the test?
How will I feel after the test? (Can I return to work immediately?)
When will I get the results?
Which lab is processing the test, and why did you choose that one? (Check to see if the lab is accredited by the Joint Commission at jcaho.org or by the College of American Pathologists at cap.org.)
What's the ideal result that I want to get on this test?
After taking the test and getting the results, what's the next step?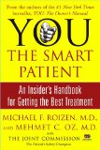 Continue Learning about Diagnostic Procedures