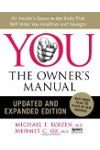 You already know how essential physical activity is to your heart, bones, and whole body. But it can also have a special benefit for people at risk of getting diabetes.

Exercise can help increases the sensitivity of your muscles to receive glucose (blood sugar). When you exercise, it releases insulin to transport that glucose-based fuel to your muscles and makes the insulin work better in getting glucose into your cells so that the glucose can be used-rather than leaving it at high levels in your bloodstream.

In fact, it's rare to find someone who exercises who doesn't decrease their blood sugar levels at the same time.