People with diabetes have high blood sugar because they either don't make enough insulin (that's type 1 diabetes) or because insulin cannot deliver that glucose into the inside of cells that make up our muscle, fat, liver, and organs. These cells act like they have shut the door on insulin and prevent glucose from being delivered to the inside of the cells (type 2 diabetes).

Obesity is the major risk factor in decreasing insulin's effectiveness, and the rise of obesity is the major reason why we've recently seen diabetes levels skyrocket.

Of course, there are many problems associated with diabetes, including frequent urination, fatigue, impotence, nerve dysfunction, accelerated arterial aging, and even the development of vision problems that can cause blindness.

The most important thing you can do to lower your risk of diabetes are to reduce your belly fat (waist), and exercise (even walking thirty minutes a day works miracles).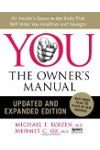 Continue Learning about Diabetes
Diabetes mellitus (MEL-ih-tus), often referred to as diabetes, is characterized by high blood glucose (sugar) levels that result from the body's inability to produce enough insulin and/or effectively utilize the insulin. Diabetes ...
is a serious, life-long condition and the sixth leading cause of death in the United States. Diabetes is a disorder of metabolism (the body's way of digesting food and converting it into energy). There are three forms of diabetes. Type 1 diabetes is an autoimmune disease that accounts for five- to 10-percent of all diagnosed cases of diabetes. Type 2 diabetes may account for 90- to 95-percent of all diagnosed cases. The third type of diabetes occurs in pregnancy and is referred to as gestational diabetes. Left untreated, gestational diabetes can cause health issues for pregnant women and their babies. People with diabetes can take preventive steps to control this disease and decrease the risk of further complications.
More