In the Stone Age, sugar, fat, and salt were in short supply; our bodies had to store them when we came across them. To help ourselves survive, we adapted to hunger for sugars—literally, we craved them. When our ancestors were fortunate enough to find a batch of juicy berries, they couldn't afford not to eat every one in sight, since it might be weeks or months before they stumbled across the next batch.

That worked fine back when there were no grocery stores, fast-food restaurants, and pie-baking grandmothers. Now? Our energy-processing machinery is still geared to life in the Stone Age while our energy supply system is 21st Century. Because sugar (glucose) was always scarce, we developed a very efficient metabolism that could process small amounts of food and extract the maximum amount of energy. Today, diabetes is the result of a fundamental mismatch between our ancestral insides and our modern world outside.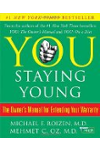 Continue Learning about Diabetes
Diabetes mellitus (MEL-ih-tus), often referred to as diabetes, is characterized by high blood glucose (sugar) levels that result from the body's inability to produce enough insulin and/or effectively utilize the insulin. Diabetes ...
is a serious, life-long condition and the sixth leading cause of death in the United States. Diabetes is a disorder of metabolism (the body's way of digesting food and converting it into energy). There are three forms of diabetes. Type 1 diabetes is an autoimmune disease that accounts for five- to 10-percent of all diagnosed cases of diabetes. Type 2 diabetes may account for 90- to 95-percent of all diagnosed cases. The third type of diabetes occurs in pregnancy and is referred to as gestational diabetes. Left untreated, gestational diabetes can cause health issues for pregnant women and their babies. People with diabetes can take preventive steps to control this disease and decrease the risk of further complications.
More