Symptoms of type 1 diabetes in children include feeling tired and hungry. Children with type 1 diabetes may also lose weight. The body will try to get rid of all the extra glucose in the blood by peeing it out. This means children need to go to the bathroom a lot and might feel super thirsty.
The cause of type 1 diabetes is genetic, with no known way to prevent it and no cure. It commonly starts right after viral infection, and symptoms include:
Frequent urination, especially at night
Significant weight loss
Increased thirst and appetite
From Good Kids, Bad Habits: The RealAge Guide to Raising Healthy Children by Jennifer Trachtenberg.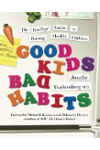 Children with type 1 diabetes don't produce insulin, meaning their body can't use sugar to produce energy. There are many symptoms of type 1 diabetes in children. Most significantly, children wake up at night several times to empty their bladder, and they are always thirsty. Both together lead to significant dehydration, which is one of the earliest manifestations of diabetes.
Continue Learning about Diabetes
Diabetes mellitus (MEL-ih-tus), often referred to as diabetes, is characterized by high blood glucose (sugar) levels that result from the body's inability to produce enough insulin and/or effectively utilize the insulin. Diabetes ...
is a serious, life-long condition and the sixth leading cause of death in the United States. Diabetes is a disorder of metabolism (the body's way of digesting food and converting it into energy). There are three forms of diabetes. Type 1 diabetes is an autoimmune disease that accounts for five- to 10-percent of all diagnosed cases of diabetes. Type 2 diabetes may account for 90- to 95-percent of all diagnosed cases. The third type of diabetes occurs in pregnancy and is referred to as gestational diabetes. Left untreated, gestational diabetes can cause health issues for pregnant women and their babies. People with diabetes can take preventive steps to control this disease and decrease the risk of further complications.
More