Different foods will have different effects on your blood sugar, and each of us reacts differently. You can quite literally test how various foods affect your body and your blood sugar by simply testing before and two hours after any meal to see how much the food caused your blood sugar to go up. You can chart trends and fine-tune your treatment.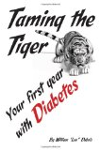 More About this Book
Taming the Tiger: Your first year with Diabetes
If you ve just been diagnosed with diabetes, this book is for you! It is a fact. Getting a diagnosis of diabetes has the same impact on your body and soul as having a heart attack. Right now you are...
Avoiding highly concentrated sweets, juices and simple carbohydrates can help you manage your diabetes. In this video, Ronald Tamler, MD, clinical director of the Mount Sinai Diabetes Center, suggests foods people with diabetes should avoid.
Carbohydrate containing food will affect blood sugar the most quickly. Examples of carbohydrate containing food include: milk; yogurt; breads; cereals; grains; starchy vegetables like corn, peas, beans and potatoes; and fruit and fruit juices. Carbohydrate containing foods that contain fiber will help slow down the absorption of carbohydrate in the body whereas foods that are simple sugars like sugar, honey, syrup, and candy will absorb quickly into the blood stream giving a quicker rise in blood sugar.
Starches, fruits, and sugar you eat are digested and produce the sugar that circulates throughout your body. Watch the animation to learn more about your diet and sugar.



Continue Learning about Diabetes
Diabetes mellitus (MEL-ih-tus), often referred to as diabetes, is characterized by high blood glucose (sugar) levels that result from the body's inability to produce enough insulin and/or effectively utilize the insulin. Diabetes ...
is a serious, life-long condition and the sixth leading cause of death in the United States. Diabetes is a disorder of metabolism (the body's way of digesting food and converting it into energy). There are three forms of diabetes. Type 1 diabetes is an autoimmune disease that accounts for five- to 10-percent of all diagnosed cases of diabetes. Type 2 diabetes may account for 90- to 95-percent of all diagnosed cases. The third type of diabetes occurs in pregnancy and is referred to as gestational diabetes. Left untreated, gestational diabetes can cause health issues for pregnant women and their babies. People with diabetes can take preventive steps to control this disease and decrease the risk of further complications.
More