Reactively is the easy way to live with your CGM monitor. You just wear it. You live in the moment, and your CGM keeps you safe.

You can be completely reactive, responding only to alarms; or you can go to the next level and try to be proactively reactive in your thinking, looking just a little bit ahead and trying to head off trouble one incident at a time.

For instance, once I ate a meal that was less than healthy. Afterwards, my Dexcom CGM warned me that my blood sugar was high and rising. Quickly. I entered my current blood sugar into my insulin pump, but the pump's opinion was that we had enough insulin in play to take care of the situation. But it was wrong.

What the pump didn't know, that thanks to my CGM I did know, was that my blood sugar was going up like a rocket. The pump only knew my BGL was 248 mg/dL and that I had X units of insulin coursing through my blood stream. The pump had no view of the flow of the blood sugar reading. But the CGM removed that static 248 and placed it in context.

And that is the power of CGM—continuous gives context. And in this case the context of my blood sugar was bad and getting worse. Quickly. With that knowledge I knew what I had to do. I had to take more insulin. Now. Or end up in the Emergency Room.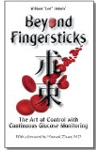 Continue Learning about Diabetes