It is important to know whether your CGM monitor offers the option of having a zero timeout on the display, so that the monitor stays on all the time.

This does eat batteries a little more quickly, but you can't beat the wristwatch-like convenience of just glancing at the device to see where your blood sugar is. Of course, then other people can see it, too. I was wearing a Med-T Guardian a while back, and one day while I was standing at the nurses' station one of the nurses cast a glance at me and said, "Nice line." Huh?

She pointed at my waist and for a minute I thought I was starring in one of those "nice pants" television commercials. "On your CGM," she said. I was having a great low-carb day and my six hour trace looked like a dead man's. Sadly, most CGM monitors require you to press a button to get information.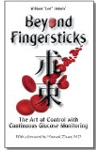 Continue Learning about Diabetes
Diabetes mellitus (MEL-ih-tus), often referred to as diabetes, is characterized by high blood glucose (sugar) levels that result from the body's inability to produce enough insulin and/or effectively utilize the insulin. Diabetes ...
is a serious, life-long condition and the sixth leading cause of death in the United States. Diabetes is a disorder of metabolism (the body's way of digesting food and converting it into energy). There are three forms of diabetes. Type 1 diabetes is an autoimmune disease that accounts for five- to 10-percent of all diagnosed cases of diabetes. Type 2 diabetes may account for 90- to 95-percent of all diagnosed cases. The third type of diabetes occurs in pregnancy and is referred to as gestational diabetes. Left untreated, gestational diabetes can cause health issues for pregnant women and their babies. People with diabetes can take preventive steps to control this disease and decrease the risk of further complications.
More