Two of three adults miss the mark on meeting the recommended daily intake for fruits and vegetables. So, this advice is not exclusive to people with or at risk for diabetes.
Fruits and vegetables offer many benefits that help prevent and control the risk factors associated with diabetes. Fruits and vegetables are a great source of potassium, which promotes healthy blood pressure levels. Citrus fruits, okra and beans have all been shown to lower cholesterol levels. Because they are low in calories, high in fiber and water, fruits and vegetables also help with weight loss. This is important since losing just 10% of excess body weight can lead to better blood sugar and blood pressure control.
Research is showing that eating more fruits and vegetables can substantially reduce the risk of developing type 2 diabetes.

One reason for the protective effect: fruits and vegetables are low in calories for their volume (i.e. a cup of vegetables might be 30 calories compared to 200 calories for a cup of cooked rice), helping you keep your weight down, which, in turn, improves insulin resistance. They're also loaded with antioxidants, which are particularly important for people with diabetes and prediabetes.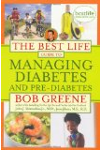 Continue Learning about Diabetes
Diabetes mellitus (MEL-ih-tus), often referred to as diabetes, is characterized by high blood glucose (sugar) levels that result from the body's inability to produce enough insulin and/or effectively utilize the insulin. Diabetes ...
is a serious, life-long condition and the sixth leading cause of death in the United States. Diabetes is a disorder of metabolism (the body's way of digesting food and converting it into energy). There are three forms of diabetes. Type 1 diabetes is an autoimmune disease that accounts for five- to 10-percent of all diagnosed cases of diabetes. Type 2 diabetes may account for 90- to 95-percent of all diagnosed cases. The third type of diabetes occurs in pregnancy and is referred to as gestational diabetes. Left untreated, gestational diabetes can cause health issues for pregnant women and their babies. People with diabetes can take preventive steps to control this disease and decrease the risk of further complications.
More