Uncontrolled high blood sugar levels from diabetes can lead to organ damage in the body. This can result in blindness, loss of limbs, heart attack, and kidney failure. There are approximately 5.7 million Americans who have type 2 diabetes (the most common form) and do not know it.

This occurs when the body becomes resistant to its own insulin or is not getting enough. When sugar is not absorbed properly diabetes ensues. Symptoms include excessive thirst, hunger and urination. Patients with diabetes often experience severe fatigue, slow healing sores, yeast infections and weight loss.

Type 1 diabetes results from lack of insulin. The key for treatment of this form of diabetes is to get adequate amounts of insulin that must be injected. For type 2 diabetes weight loss and healthy eating may be enough to control blood sugar. Some patients require additional medication and some may need insulin as well.

How closely the blood sugar needs to be controlled depends on the individual and type of diabetes. The risk of complications from low blood sugars is often greater than the risk of high blood sugars. Therefore control of blood sugar in a healthy range is essential.

Achieving control of blood glucose is the most important step you can take to ensure longevity, as well as regain control of your erections. With blood glucose monitoring and control, you can prevent any complications, such as:
eye damage (retinopathy)
nerve damage (neuropathy)
foot problems
heart and blood vessel (cardiovascular) disease
impotence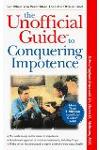 More About this Book
Unofficial Guide to Impotence
The Unofficial Guide to Conquering Impotence delivers the inside scoop on impotence: the truth about Viagra, what treatments really work, and how lifestyle changes can aid in conquering...
Continue Learning about Diabetes