Legumes are beans, such as black beans and lentils, which come dried or canned. Legumes have a very low
glycemic index (GI)
, probably because of their fiber and because they contain resistant starch. As with grains, the more intact the bean, the lower the GI. So a side dish of whole, cooked black beans would have a lower GI than a puréed black bean dip, which would have a much lower GI than bean flour.
Legumes are rich in B vitamins and in minerals associated with improved diabetes management: calcium, magnesium, and zinc. They've been shown to lower low-density lipoprotein (LDL) cholesterol; this might be their soluble fiber at work (beans have a mix of soluble and insoluble fiber).
All legumes -- black, kidney, pinto, white, cannelloni, garbanzo, adzuki, lentils, soy, pink -- are supernutritious, so pick your favorites! Save some money by cooking them from scratch (lentils have the shortest cooking time). If you buy them canned, look for those with no salt added (EdenFoods has a wide variety) or with no more than 120 mg sodium per half cup, such as Goya low-sodium. You'll find edamame in the frozen food section, both with the shell (which you don't eat) or shelled. Toss them into salads and stir fries or serve marinated as a side dish.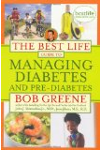 Continue Learning about Diabetes
Diabetes mellitus (MEL-ih-tus), often referred to as diabetes, is characterized by high blood glucose (sugar) levels that result from the body's inability to produce enough insulin and/or effectively utilize the insulin. Diabetes ...
is a serious, life-long condition and the sixth leading cause of death in the United States. Diabetes is a disorder of metabolism (the body's way of digesting food and converting it into energy). There are three forms of diabetes. Type 1 diabetes is an autoimmune disease that accounts for five- to 10-percent of all diagnosed cases of diabetes. Type 2 diabetes may account for 90- to 95-percent of all diagnosed cases. The third type of diabetes occurs in pregnancy and is referred to as gestational diabetes. Left untreated, gestational diabetes can cause health issues for pregnant women and their babies. People with diabetes can take preventive steps to control this disease and decrease the risk of further complications.
More