The insertion, even if occasionally painful, is no big deal in the greater scheme of things, and neither is wearing the monitor. It just becomes part of your wardrobe, like your watch and your medic alert necklace. (You do wear a medic alert necklace, don't you?) You may even forget the monitor is there until it squawks or vibrates at you.

The sensors, once in, are completely painless.

Trust me, there are much worse things in life than living with a CGM. This really isn't that hard, and the payoff is immeasurable.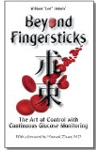 Continue Learning about Diabetes