It's important to take your diabetes medicine to keep your blood sugar levels as close to normal as possible. When blood sugar soars out of control or remains high, it can damage blood vessels and nerves throughout your body. High blood sugar increases your risk for heart attack, stroke, blindness, kidney failure, digestive problems, dental conditions and amputation of a limb.
Maintaining adequate blood sugar control (Hemoglobin A1C levels below 7.0) is the most effective way of preventing or staving off serious long-term diabetic complications. These include vision loss (retinopathy), kidney failure, nerve damage resulting in sensory loss and/or chronic pain (neuropathy), heart attack, and stroke.
Your doctor most likely wrote you some sort of prescription for your diabetes. You need to take it, but you need to know that your medications are a treatment, not a cure.

Diabetes progresses. It gets worse over time. You and your doctor will spend the rest of your life adjusting these medications as your age and weight change. Sometimes medications can be reduced. Sometimes they need to be increased. When the medications no longer do the job, new ones will be added. Simply put: Diabetes medications are important for your health. Taking them regularly will help you maintain that health.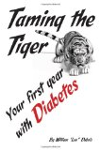 More About this Book
Taming the Tiger: Your first year with Diabetes
If you ve just been diagnosed with diabetes, this book is for you! It is a fact. Getting a diagnosis of diabetes has the same impact on your body and soul as having a heart attack. Right now you are...
Continue Learning about Diabetes
Diabetes mellitus (MEL-ih-tus), often referred to as diabetes, is characterized by high blood glucose (sugar) levels that result from the body's inability to produce enough insulin and/or effectively utilize the insulin. Diabetes ...
is a serious, life-long condition and the sixth leading cause of death in the United States. Diabetes is a disorder of metabolism (the body's way of digesting food and converting it into energy). There are three forms of diabetes. Type 1 diabetes is an autoimmune disease that accounts for five- to 10-percent of all diagnosed cases of diabetes. Type 2 diabetes may account for 90- to 95-percent of all diagnosed cases. The third type of diabetes occurs in pregnancy and is referred to as gestational diabetes. Left untreated, gestational diabetes can cause health issues for pregnant women and their babies. People with diabetes can take preventive steps to control this disease and decrease the risk of further complications.
More