There are several things you can do with your test strips to make sure you get the most accurate reading possible with your glucose meter, according to the Food and Drug Administration. First, make sure your test strips are compatible with your meter. Small differences in test strips can affect results. Check the test strips' expiration date. If you use an expired strip, you may get an inaccurate result. Read the instructions carefully to make sure you put enough blood on the test strip to get an accurate reading. Insert the test strips completely into the meter guides. Finally, run quality control tests as directed by the manufacturer, even if the strips haven't yet reached their expiration date. As often as possible, check the results from your meter against laboratory test results.

Lance your finger, gently squeeze until you've got a nice drop of blood. One major strip type draws blood from either side of the strip, but the vast majority draw from the tip. Important: do not put the blood on the strip. Let the strip drink the blood like a little vampire bat. Hold the meter/strip at a 45 degree angle to the drop of blood and gently touch the tip of the strip to the drop. Slurrrrrrrrrp! Most strips have a "preview" window and you can watch the blood zip up into the strip. It is important that this entire window be filled. If it is not, the strip doesn't have enough blood and might give a bad reading. Most meters will give you the result in 5-15 seconds.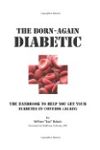 Continue Learning about Diabetes
Diabetes mellitus (MEL-ih-tus), often referred to as diabetes, is characterized by high blood glucose (sugar) levels that result from the body's inability to produce enough insulin and/or effectively utilize the insulin. Diabetes ...
is a serious, life-long condition and the sixth leading cause of death in the United States. Diabetes is a disorder of metabolism (the body's way of digesting food and converting it into energy). There are three forms of diabetes. Type 1 diabetes is an autoimmune disease that accounts for five- to 10-percent of all diagnosed cases of diabetes. Type 2 diabetes may account for 90- to 95-percent of all diagnosed cases. The third type of diabetes occurs in pregnancy and is referred to as gestational diabetes. Left untreated, gestational diabetes can cause health issues for pregnant women and their babies. People with diabetes can take preventive steps to control this disease and decrease the risk of further complications.
More