Diabetes, at least the most common kind, tends to creep up on its victims over a period of many years. The high blood sugar caused by diabetes makes you feel like crap, but you probably don't even know it yet because the changes happen so slowly, a little bit at a time. It is so gradual that you chalked up your symptoms to getting older, being busier than usual, or being stressed out. Diabetes typically doesn't get diagnosed until after you've been feeling terrible for quite a while.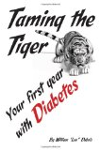 More About this Book
Taming the Tiger: Your first year with Diabetes
If you ve just been diagnosed with diabetes, this book is for you! It is a fact. Getting a diagnosis of diabetes has the same impact on your body and soul as having a heart attack. Right now you are...
Continue Learning about Diabetes