Modern lancing devices work kind of like a sewing machine. They very, very, very quickly push a small needle called a lance outwards and then retract it nearly instantly. The goal is to prick your finger so fast your nerve cells won't even know what happened.

Most lancing devices have a variable depth gauge that controls how far the needle shoots out (or put another way, how far it shoots into you). The number of levels varies depending on the model, with five and nine being the most common. Low numbers are for dainty Southern debutantes whose fingers live in silk gloves. Higher numbers are for calloused Canadian lumberjacks. Most of us are somewhere in the middle. The goal is to get blood with no pain. Or minimum pain, anyway. Now, the FDA has approved lots of meters for alternate site testing. That means you can test from the forearm or leg or palm rather than the finger
tips.

However, the fingertips are where the action is. They are at the cutting edge of changes in your blood sugar. Alternate sites are not as accurate in terms of up-to-the-moment information. Best to test the fingertips.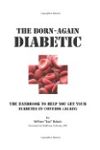 Continue Learning about Diabetes