If you take care of yourself and treat your diabetes carefully, you can actually become much healthier than the average American who does not have diabetes.

I am healthier with diabetes than I was without it. I think about my body, what I put into it, what I ask it to do. I am more keenly aware of my mortality, and yet will probably live longer and sweeter than I would have had diabetes not joined my team.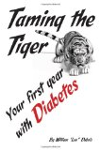 More About this Book
Taming the Tiger: Your first year with Diabetes
If you ve just been diagnosed with diabetes, this book is for you! It is a fact. Getting a diagnosis of diabetes has the same impact on your body and soul as having a heart attack. Right now you are...
Continue Learning about Diabetes