CGM samples glucose on a schedule of anywhere between every minute and every five minutes, and then creates a trace of motion by connecting the dots with a line on the monitor's screen. This trace records the meanderings of our blood sugar over the course of time, and creates the illusion of continuous reporting of changes in our blood sugar.

Oh right. Except CGMs don't really measure blood sugar at all. CGM sensors estimate your blood glucose by looking instead at the glucose level of the water between your cells, what is called interstitial fluid.

In this water, like in blood, there is also glucose; and the glucose level in your i-fluid is very close to the glucose level in your blood. As blood sugar rises, so too does i-fluid glucose. As blood glucose drops, so too does i-fluid glucose. Never quite as quickly, but always in the same
direction.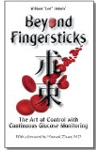 Continuous glucose monitoring systems (CGMS) measure blood glucose levels usually every 5 minutes around the clock. A tiny sensor is inserted under the skin checking glucose levels in interstitial fluid.
A sensor can be placed on by your diabetes educator for a three day period called a "professional" CGM because the sensor is removed, turned into your educator and they download the data into reports and graphs to display your blood sugar readings. Some people with diabetes may wear their own CGM and can view their blood glucose readings at any given minute. This is helpful in making adjustments to insulin or eating depending on whether the blood sugar is rising or falling. A personal CGM needs to be replaced every 3-7 days depending on the model.
Continue Learning about Diabetes