Your diet did not cause your diabetes. There is a belief, a myth, a falsehood, that people with diabetes gave it to themselves by eating too many sweets or by being overweight. Nothing could be further from the truth. There are plenty of 300-pound sugar addicts out there who do not have diabetes.

You have to be special to join the diabetes family. Your body has to be designed for diabetes at the most basic level. Without getting too medical, your genes are either set up for diabetes or they are not. That is why diabetes often happens in families over many generations.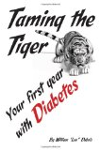 More About this Book
Taming the Tiger: Your first year with Diabetes
If you ve just been diagnosed with diabetes, this book is for you! It is a fact. Getting a diagnosis of diabetes has the same impact on your body and soul as having a heart attack. Right now you are...
For many people, a bad diet boosts their diabetes odds. Most Americans eat few fruits and vegetables, which puts them at risk for many health problems, including diabetes. In fact, one survey found that fewer than half of Americans eat five or more servings of fruits and vegetables most days of the week. Of particular benefit are leafy greens, such as spinach, kale, and collard greens. One analysis found that eating slightly more than one serving of leafy greens a day (about 1 cup raw greens) can lower diabetes risk by 14%.
Continue Learning about Diabetes
Diabetes mellitus (MEL-ih-tus), often referred to as diabetes, is characterized by high blood glucose (sugar) levels that result from the body's inability to produce enough insulin and/or effectively utilize the insulin. Diabetes ...
is a serious, life-long condition and the sixth leading cause of death in the United States. Diabetes is a disorder of metabolism (the body's way of digesting food and converting it into energy). There are three forms of diabetes. Type 1 diabetes is an autoimmune disease that accounts for five- to 10-percent of all diagnosed cases of diabetes. Type 2 diabetes may account for 90- to 95-percent of all diagnosed cases. The third type of diabetes occurs in pregnancy and is referred to as gestational diabetes. Left untreated, gestational diabetes can cause health issues for pregnant women and their babies. People with diabetes can take preventive steps to control this disease and decrease the risk of further complications.
More